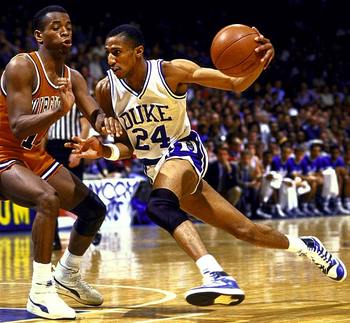 When drafting my team, I went for the most efficient players available. On the other hand, it was also important to me to have balance. I didn't want to draft four centers in a row just because they met my efficiency criterion. That could result in an excess of talent at one position and a dearth at other positions. For this reason, I decided to make sure I had a complete starting lineup before moving on to my bench.
My first pick was easy. Point guard is the most important position on the floor, and though Kyrie Irving only played in eleven games, he had the most efficient season by far of any Duke point guard. It wasn't about who the best player was, but who I believed would give me the best production when run through a simulator.
Next, I wanted a center. After looking through my options, I decided Mike Gminski offered the best combination of scoring, rebounding, and efficiency. In addition to having efficient players, I think another way to win these simulated matchups is to have strong rebounding.
Somewhat arbitrarily, I decided to select a shooting guard next. I would have liked to get J.J. Redick, but not surprisingly he wasn't available. So I chose the second best scorer in Duke history—Johnny Dawkins. Though he doesn't offer the outside shooting normally associated with an SG, in his senior season he shot an incredible 55% from the field while scoring 20 ppg.
I had two more positions to fill for my starting lineup, and in what I believe will prove a huge coup, Danny Ferry was still available. He offered me outside shooting to offset Dawkins's lack thereof. Additionally, he's the best distributor of any Duke power forward. This was important because Irving did not exactly post high assist numbers during his time at Duke.
Lastly, I needed an a small forward. My first choice was Grant Hill, but he was taken. Looking closely at Mike Dunleavy, though, it turns out he might have been an even better option for my needs. He offered solid rebounding and good three-point shooting, both of which I was still looking to improve.
Done with my starting lineup, I filled in my bench based on who I believed was the most efficient pick available. Position was still a consideration, though, as were any weaknesses in my starting lineup. I picked Brian Zoubek, for instance, because I still felt I could use more rebounding. Similarly, I picked Trajan Langdon because I wanted more sharp-shooting. I am sure I missed some good picks since it was impossible to run through a Rolodex of all the options in my head, but for the most part I am satisfied. My only complaint is that I could have used another true small forward. It's my hope that since Dahntay Jones has good height he can play SF in a pinch. And Thomas Hill is listed as a forward/guard hybrid.
At any rate, I intend to take a page from the Coach K school of coaching and lean heavily on my starting lineup. For my first game, at least, I will try to play my starters a full forty minutes. Why risk an unnecessary dip in production? I've never used this simulator, so I don't know if the amount of minutes a player plays affects their productivity. Logically, it shouldn't. I can't imagine an algorithm complex enough to simulate fatigue. My bench is mostly there for emergency reasons. I might make substitutions from game to game depending on matchups. For instance, if I feel a team has great rebounding and might take advantage of my team on the boards, I will play Zoubek a little extra. But only if I feel I can spare Gminski's scoring. For now I'm looking at:
| | |
| --- | --- |
| Starters | Bench |
| PG – Kyrie Irving 40 min | PG – Tommy Amaker |
| SG – Johnny Dawkins 40 min | SG – Trajan Langdon |
| SF – Mike Dunleavy 40 min | SG – Phil Henderson |
| PF – Danny Ferry 40 min | G/F – Dahntay Jones |
| C – Mike Gminski 40 min | SF – Thomas Hill |
| | PF – Lance Thomas |
| | C – Brian Zoubek |
We'll see if this theory holds up. It could be that the numbers I am using to determine efficiency (offensive efficiency rating, true shooting percentage, effective field goal percentage, possession percentage) are inapplicable to this particular simulator. It could be that per-minute production is more important than efficiency. If that's the case, I simply should have chosen my players based on usage. Fortunately, if I discover unexpected kinks, it's always possible to adjust my strategy—much like any real coach would.
Tags: Ball Durham Blue Devils Championship Duke Blue Devils Sim League Team Clement